Overview
Daily Schedule lets you view and interact with today's incoming and outgoing reservations, making it easier to start, finish, or cancel them.
Accessing and Viewing Daily Schedule
To access Daily Schedule, select Schedule from the main navigation. Here you can view reservations in the following statuses:
Pickup:

Reservations scheduled to start today (Booked status)

Dropoff:

Reservations scheduled to end today (Started status)

Started

: Reservations that started today (Started status)

Finished

: Reservations that ended today (Finished status)

Canceled:

Reservations scheduled for today that have been canceled (Canceled status)

No Show:

Reservations that were not started on or before the scheduled start date & time (No Show status)
The following signature statuses will be indicated for each Pickup reservation:
Ready to Start:

The customer has submitted a signature

Not Signed: The customer has not yet submitted a signature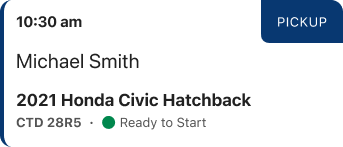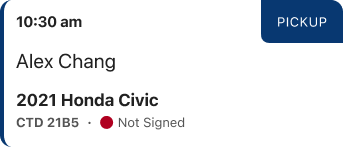 Using Daily Schedule
Use Daily Schedule to start, finish, or cancel reservations, assign or unassign vehicles, and resend Contactless Contract text messages. If a Program is assigned to the reservation, it will be visible.
Select

Schedule

from the main navigation

Select a reservation in

Pickup

status to add an Additional Driver or start or cancel the contract

Select a reservation in

Dropoff

status to finish the contract
Filtering by Reservation Status
Select the filter icon at the top-right of Daily Schedule to filter by the following reservation statuses:
All Reservations
Pickup Only
Drop-off Only
Pickup & Drop-off

Notes
Contracts completed prior to their scheduled drop-off dates will appear in Daily Schedule on the scheduled drop-off date in a Finished status.

Future reservations will not be visible in Daily Schedule and must be viewed using Dealerware Web.

You cannot edit the pickup/drop-off dates of reservations scheduled to begin today.

If you do not start a reservation within the scheduled calendar day, the reservation status will update to

No Show

.

You cannot start a No Show reservation and should cancel it and book a new one in its place.