Overview
Biometric Sign-in allows you to quickly sign in to your Dealerware account by using your device's biometric security features, like saved credentials and FaceID.
Signing in to Dealerware with Biometrics
Biometric Sign-in provides Dealerware users the option to skip entering user emails and passwords to gain access to their Dealerware accounts.

If you have biometric security available on your mobile device and the feature is enabled for your device's lock screen, you may access Dealerware through:
Face ID

: The mobile device will identify a user through facial recognition technology.

Touch ID

: The mobile device will identify a user through fingerprint recognition technology.
If biometric identification is unavailable or not activated on your device, you still have the option of accessing your Dealerware account through your account email and password.
Using Biometric Sign-in
To use the biometric sign-in option, first be sure it is available and enabled on your mobile device.
Open the Dealerware app.

Enter your user email address and password in the respective fields. This criteria will be linked to the biometric identification.

On the Login Screen, a pop-up modal will ask you to use Touch ID. Use your registered fingerprint to sign in.

If you prefer to sign in using Face ID, select the toggle

Use Face ID

.

A modal will appear to approve or deny your selection. Select

Approve

to continue using Face ID to sign in.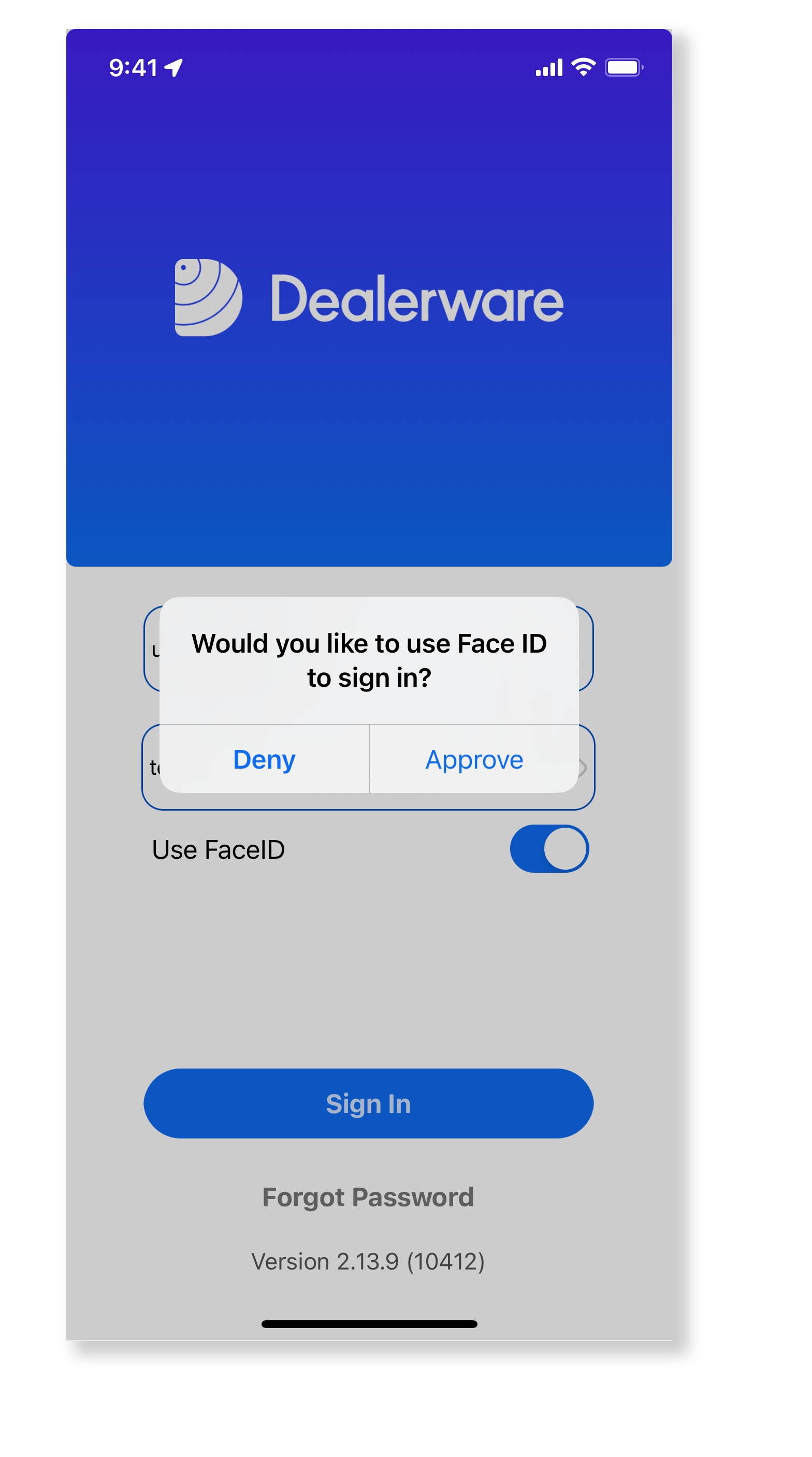 Notes
Biometric sign-in restricts account access to be exclusive to a single user's biometric credentials. For greater flexibility, the option to use email and password access is always available.

If you do not have biometrics available or enabled on your device, you will not see a pop-up modal for biometrics. You will see the basic email and password Login screen, without the option to activate Face ID.