Overview
VINs to Multiple Programs allows a VIN to be assigned to more than one Program, enabling a single vehicle to serve multiple use cases based on program or source of business.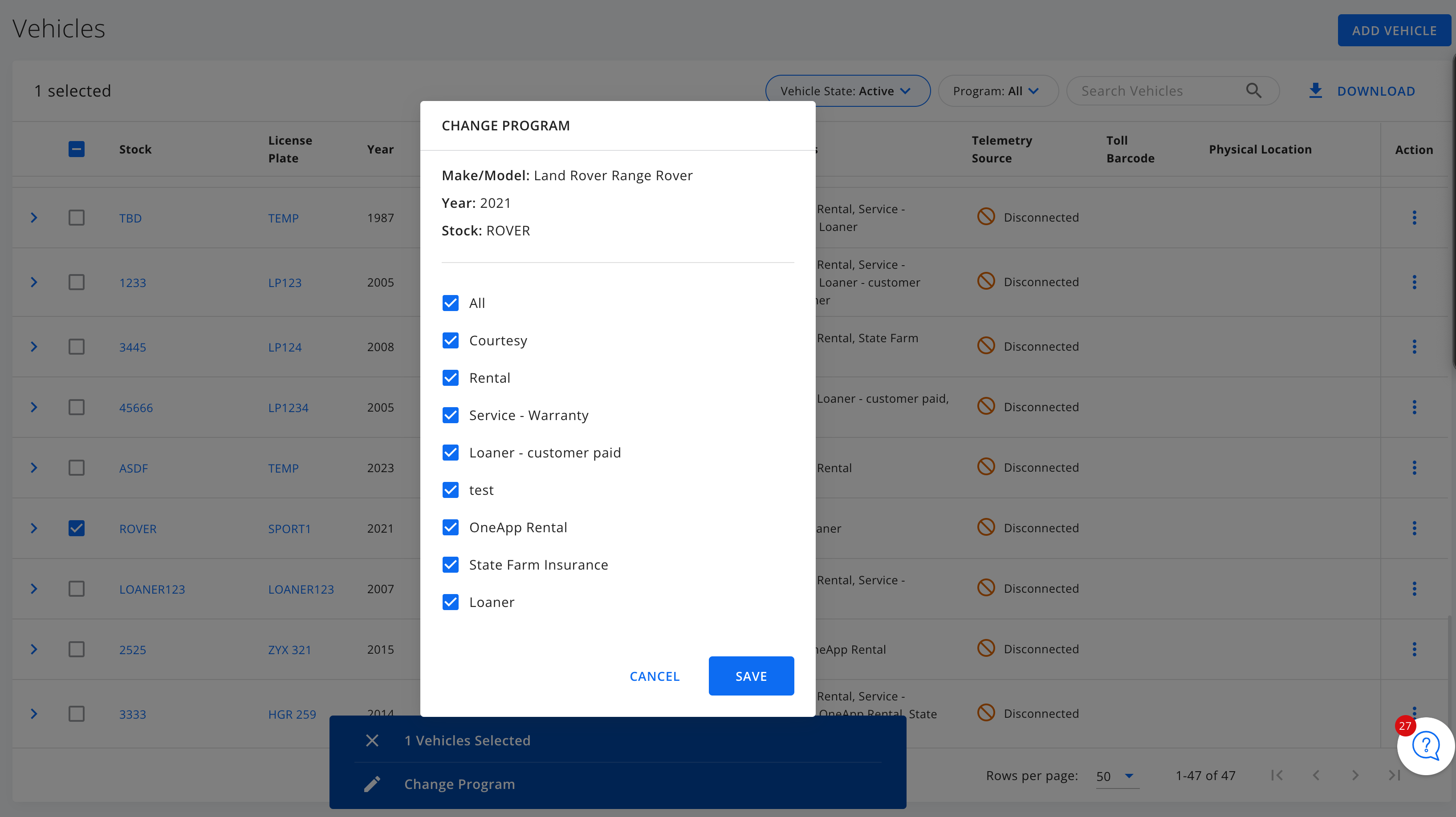 How does VINs to Multiple Programs work?
When a Program is assigned to a reservation, the program acts as a billing configuration. During the start-contract workflow, a vehicle within the program is selected and assigned to a contract, at which point the program-level billing configuration applies to the contract.
It's important to add the source of business and rate details to a program's name so that it's clear to a Dealerware user when assigning a program during the reservation workflow—for example, Rental: 35/Day.
The Program's corresponding Driver Agreement applies to the vehicle chosen during the start-contract workflow, therefore it's important to confirm that the correct Driver Agreements are assigned to Vehicle Programs (see: Multi-Agreements).

How does VINs to Multiple Programs impact availability?
Dealerware now calculates availability at the combined-fleet level, rather than at the Program level. This means that the Dealerware platform will compare the active contracts to the total number of vehicles at your location for a given new-reservation period (between pick-up & drop-off).
If there are more vehicles than active contracts, the platform will allow a reservation to be created without the risk of overbooking, due to general availability. 
If there are fewer cars than active contracts, then there is a risk of overbooking and the platform will notify you with a warning message when selecting reservation pick-up and drop-off dates.
The Program chosen during the reservation workflow will continue to dictate which vehicles are available to assign to a corresponding contract.
How do I assign VINs to multiple Programs
?
There are two ways you can assign a VIN to one or more Programs from the Vehicles page: via the Vehicles table, or when uploading an individual vehicle.
Assign VINs from the Vehicles Page
Select Vehicles from the main menu
Select the checkbox next to the VINs you wish to assign to multiple Programs
Select Change Program from the pop-up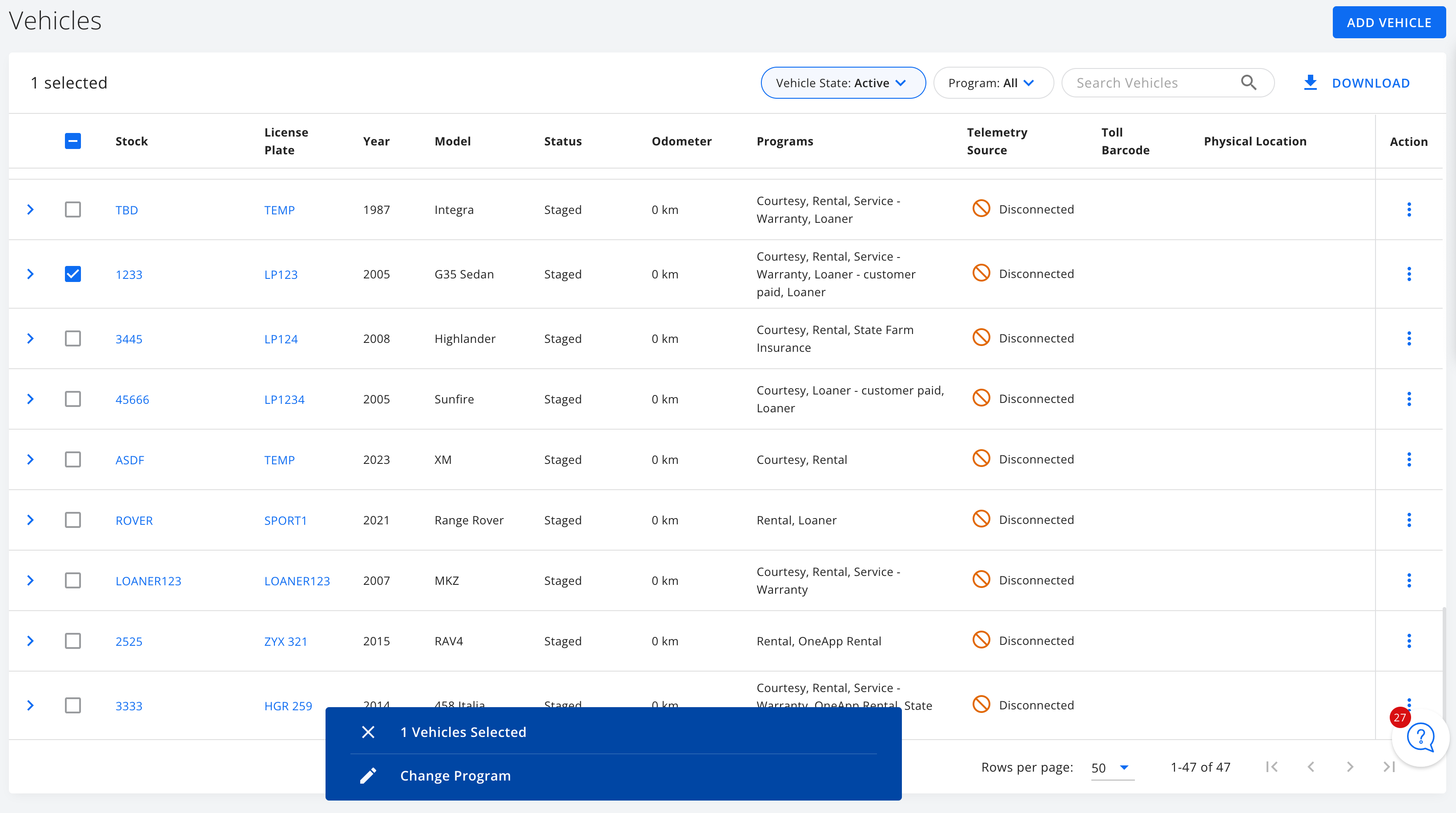 Select all applicable Programs from the pop-up
Select Save
*Note that a VIN must be in a non-rented vehicle status in order to be reassigned to a Program.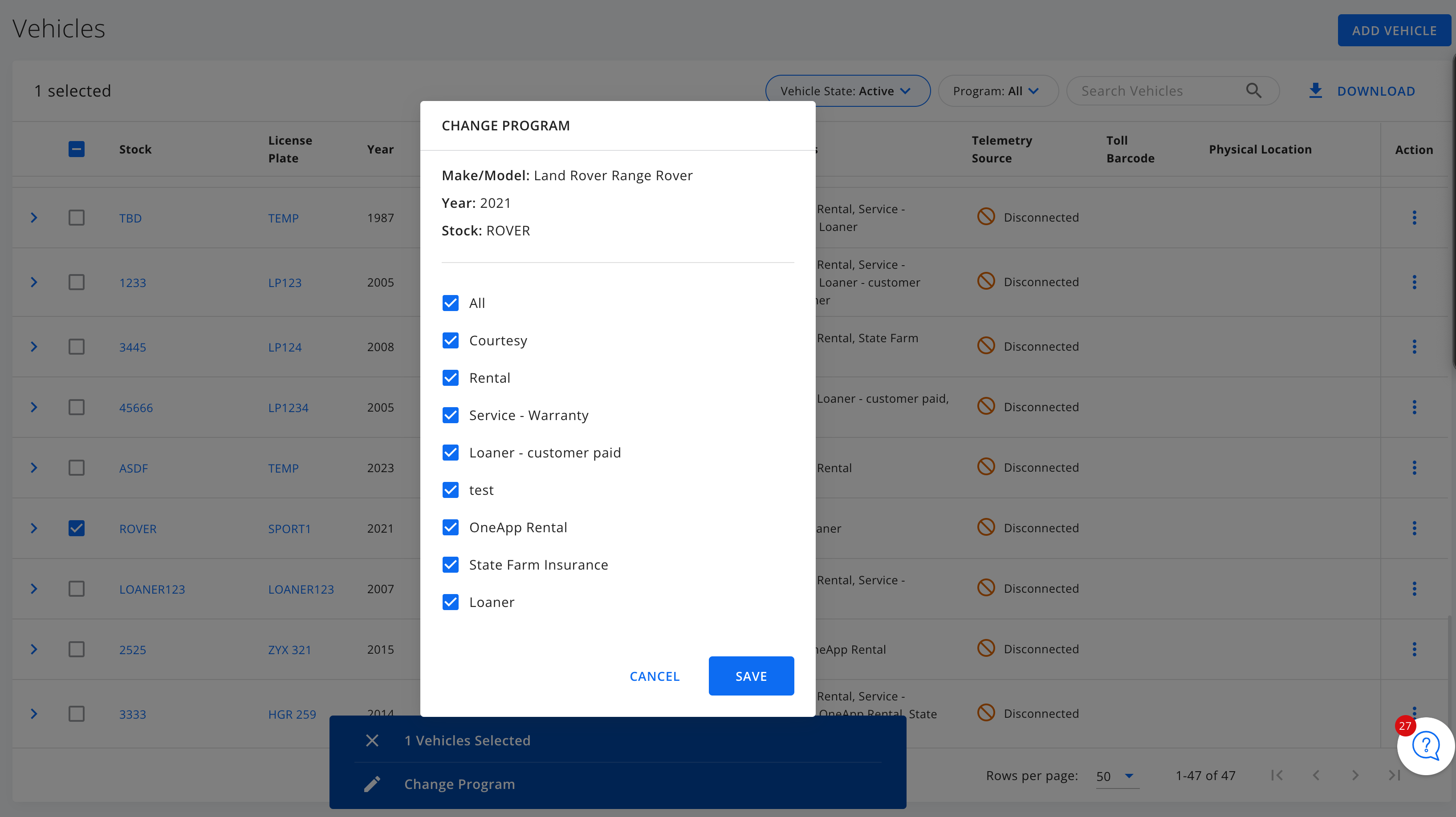 Assign VINs when Uploading a Vehicle 
Select Vehicles from the main menu
Select Add Vehicle at the top-right of the page
Fill out all the mandatory fields
Select all applicable Programs from the dropdown menu
Select outside of the dropdown menu
Select Add Vehicle

How do I know which Program(s) a VIN is assigned to?
Select Vehicles from the main menu
Locate the vehicle in question
View the Programs column and observe the affiliated programs