Overview
When adding a new customer in Dealerware, a Customer Profile is created, which contains personal, payment, and insurance information.
Before creating a new customer in Dealerware Mobile, first scan the customer's driver's license to determine if a profile already exists. If a profile exists, an alert will populate and provide the option to view the profile or create a new one.
You can use Dealerware Mobile to edit an existing customer profile. To delete a customer profile, use Dealerware Web.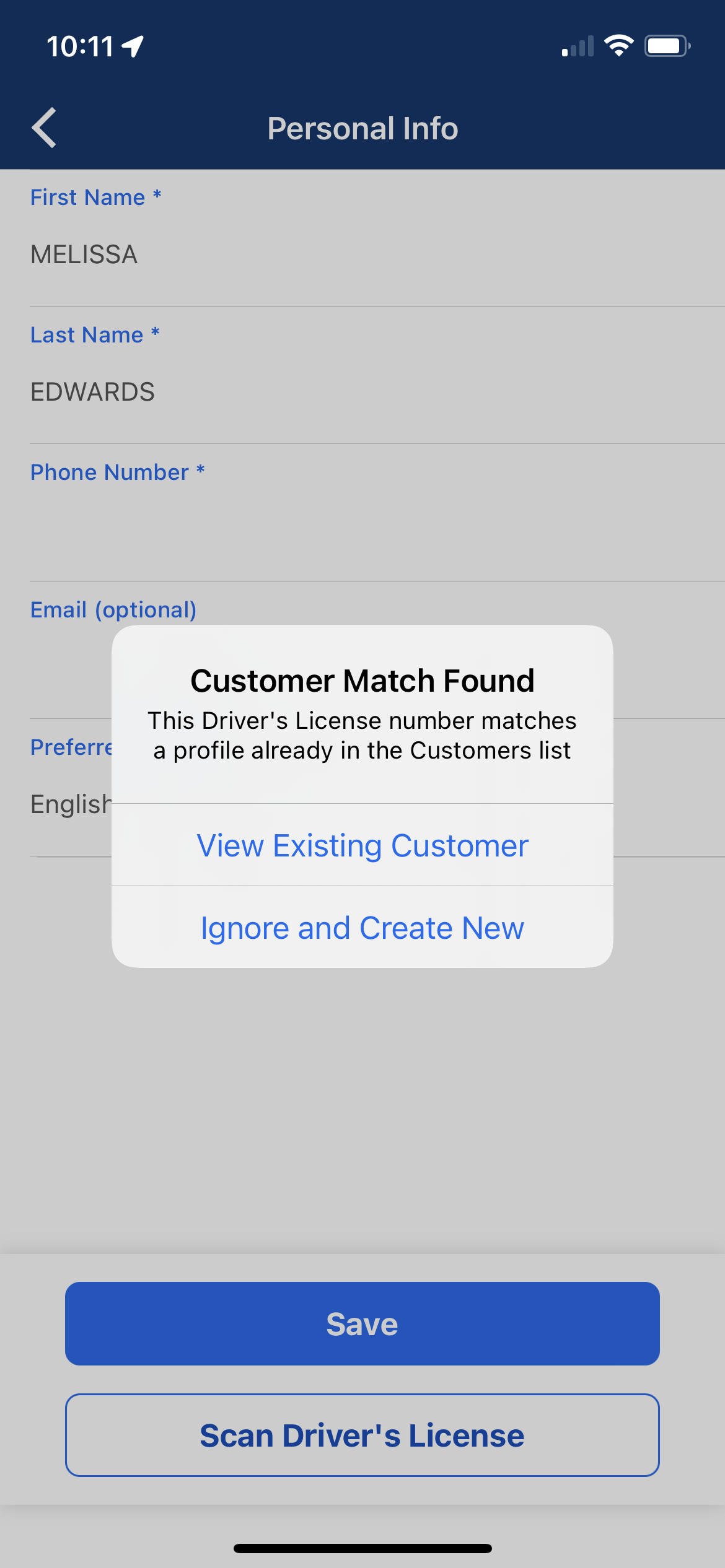 Create a New Customer
Add Driver's License & Personal Details
Select

Customers

from the main navigation

Select

Create New Customer
Scan the Driver's License

or manually enter the information (an alert will populate if a profile already exists)

Input the customer's

mobile phone number

(US customers will receive their

Driver Agreement

via text message)

Add the customer's

email address

(Optional in the US, mandatory in Canada. Canadian customers will receive their Driver Agreement via email)

Select

Save
Add a Payment Method
After adding the customer's personal information, you will be redirected to the Add Payment screen

Select

Scan Card

to scan the customer's credit or

debit card

and capture name, card number, expiration date, and CVV

Manually

enter the billing Zip Code

Select

Save
*Dealerware is PCI Compliant, therefore your customer's information is secure and won't be stored on the device.
Add Insurance Information
After adding the customer's payment method, you will be redirected to the Insurance screen

Enter the insurance policy

expiration date

Select

Take Photo

to capture a photo of the customer's insurance information

Select

Use Photo

Select

Save
Add Employer Information (optional)
Select

Employer Info

(optional) from the customer profile

Enter the

Employer Name

and

Employer Phone

(required)

Enter

Employer Address

(optional)

Select

Save
Edit Customer Information
Select Customers from the main navigation
Search for the customer and select their profile

Select the applicable tab to add or edit details