Contactless Contracting allows dealerships to submit a link by text message directly to the customer so the customer can sign the agreement on their personal device.
Dealerships can use Contactless Contracting on both Dealerware Mobile and Dealerware Web.
To create a Contactless Contract:
To request a customer signature:
Select

Continue via Customer's Device
Confirm

the phone number is correct

Select

Send Text Message

A confirmation message will display. Select

Close
If "Message Failed" populates after sending the text message, update your Dealerware app.
To manage pending signatures:
The contract will state Signature Pending in the contracts tab of Dealerware Mobile until the customer signature is received. By selecting the contract with a signature pending status, you can resend the text message. If you need to make changes to the contract, tap Cancel Contract.
Refresh

the contracts tab until

Signature Pending

states

Signature Submitted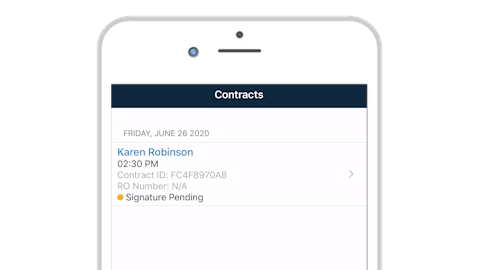 To receive a customer signature:
The customer will receive a text message with a link on their personal device. The customer will then complete the following steps:
Open the link

on their device in a web browser

Toggle on each

Agreement Summary toggle
Sign

the contract

Select

Sign Contract
This does not mean the contract is started.
To start a Contactless Contract:
Select the

Signature Submitted

contract

Select

Start Contract

Select

Yes
The customer will receive another text message with their signed and started contract.